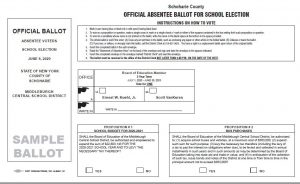 Absentee ballots will soon be mailed out to all registered voters in the Middleburgh School District for the 2020-21 school budget vote/board election.
As a reminder, Gov. Cuomo's May 1 executive order states school board elections and budget votes statewide will be held by absentee ballot and tallied on June 9.
Reminder: Deadline for receipt by mail is 5 p.m. on June 9. There are no exceptions.
Thank you.