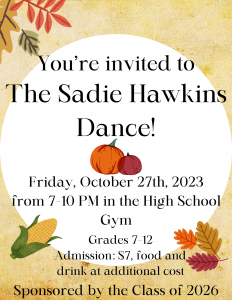 The Class of 2026 is making preparations to host a Sadie Hawkins dance. The event is open to students in grades 7 through 12 and will be held in the MCS High School gym from 7 to 10 p.m. on Friday, Oct. 27.
Tickets for the dance will be available at the door for $7 each. There will be food, music and games. As part of the celebration, attendees are encouraged to dress in their favorite flannel, jeans, and boots. 
Activities like the Sadie Hawkins dance offer students an opportunity to socialize, create connections, and make lasting memories. Additionally, the Class of 2026's sponsorship lets students gain life skills, including teamwork, planning, and responsibility.  
If you have any questions or need further information, please contact class advisor Scott Gray.