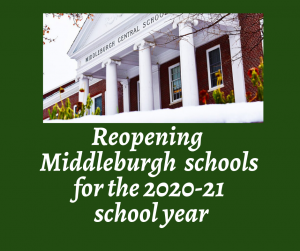 The Middleburgh COVID-19 School Reentry Task Force held its first meeting today, July 28, where an in-depth review of Middleburgh's preliminary 2020-21 Reentry Plan, containing all the necessary information requested by the New York State Department of Education (SED), took place.
In that meeting. Superintendent Brian Dunn, Jr./Sr. High School Principal Matthew Sloane, Elementary School Principal Amy Irwin and Director of PPS Maura Green presented detailed information on the district's planned instructional model, which is a hybrid/blended learning model and schedule that can continue as is in a fully remote environment.
Also as part of that meeting, a thoughtful discussion took place about the wearing of masks by students and staff in addition to other aspects of the preliminary plan   
"Our committee continues to work tirelessly to finalize our plan for the school year which puts student/staff health and safety first and foremost, and we are beyond grateful for their commitment to our students' academic success," said Superintendent Brian P. Dunn. "This important to emphasize: How our instructional plan continues throughout the school year depends on changing conditions."
Committee members are:
Brian Dunn, Superintendent
Amy Irwin, Elementary Principal
Matthew Sloane, Jr-Sr High School Principal
Maura  Green, Director of PPS
Gregg Johns, PE Teacher, Coach, Coordinator, Parent
Heather Howe, School Counselor
Jennifer Adams, School Nurse, Parent
Kelly Pacatte, School Counselor, Coordinator
Maria Sime, Educational Tech Spec Teacher, AD
Mary Pandolfino, School Psychologist
Paul Pierce, School Counselor, Coordinator
Rock Loiselle, Transportation Supervisor
Ross Pacatte, Math Teacher, MCSTA President
Scott Gray, Technology Teacher
Shari Sauter, Special Education Teacher
Steve Weinhofer, Buildings & Grounds Supervisor
Terry Gillooley, School Business Manager
Amy Wayman, Schoharie County Probation, Parent
Raelyn Mercer, President MCS Roundtable, Local Daycare Provider, Parent
Rachel Morgan, Parent
Rich. Vilegi, Middleburgh Hardware, MCSRPA President, Parent
 "As long as our region's metrics allow, and Gov. Cuomo makes the decision for us to be in school, our plan is to begin school year with a hybrid/blended learning model," added Mr.  Dunn. "The continued effects of this pandemic are requiring us to make very tough decisions which we realize are not optimal. But this allows us to have the physical distancing we need plus the ability to maximize in-person instruction opportunities, along with all the important academic, social and emotional needs of our students."
A detailed plan will be submitted to the State Education Department on Friday, July 31, and available for public viewing at that time.
New York State Department of Education guidance documents: 
Recovering, Rebuilding, and Renewing: The Spirit of New York's Schools – Reopening Guidance