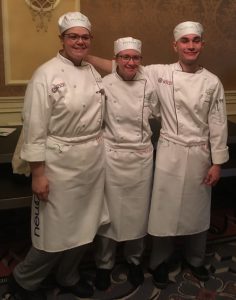 For the second consecutive year, a Capital Region BOCES culinary team is among the best in the nation.
Students Alexia Torres and Katelyn Manchester from Cobleskill-Richmondville and Logan Stephens from Middleburgh tested their cooking skills against the best youth chefs in the country at the National ProStart Invitational May 8-10 in Washington, DC and walked away with an 11th place finish out of the 50 competitors!
The trio earned the right to represent New York State by besting teams from New York and Vermont during a competition in March at the Culinary Institute of America in Hyde Park. Torres and Manchester are seniors and were part of the 2018 state championship team that finished in the top 10 nationally.
The national competition is billed as "the country's premier secondary school competition focused on restaurant management and culinary arts."
During the event that is sponsored by The National Restaurant Association Educational Foundation (NRAEF), nearly 400 student competitors challenged themselves in front of industry leaders, NRAEF Trustees, state restaurant associations, and family and friends – all with hopes of earning coveted scholarships from the nation's best culinary and restaurant management programs.
To prepare for the national competition, students worked with Chef and Teacher Nancy Iannacone and other industry experts and Capital Region BOCES partners, including representatives of the New York State Restaurant Association Educational Foundation.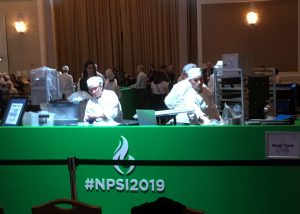 Chef Iannacone said the students received excellent feedback from the judges.
"The judge's feedback on the food was excellent.  The entree judge hugged the kids, he was so impressed with it," she said.
The team prepared a menu consisting of scallops with orange basil gastrique with salad of arugula, baby cucumbers, baby bell peppers, and orange supremes; pan-roasted chicken breasts with mushroom sweet vermouth pan sauce, goat cheese whipped potatoes and butter-braised asparagus and carrots. Desert will feature lemon ricotta fritters, white chocolate crème fraiche mousse, strawberry rhubarb sauce, minted strawberries, coconut and almond crunch.
The entire meal was prepared by the three high school students in 60 minutes using butane burners.
"At one point the team was 10 minutes behind schedule, but they managed to finish and finish strong!" she said. "I am proud of the hard work that the students put into this."