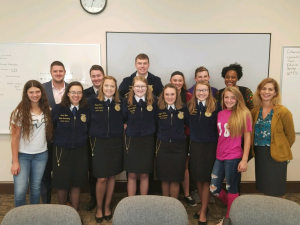 A new program could be excused for starting a little slow. But Ms. Sayvanna Sfabian and the new Middleburgh Agriculture Education program have hit the ground running.
The Agriculture program has started strong, with Ms. Sfabian teaching six different classes: two 7th grade General Agriculture classes, a Veterinary Science class, a Fisheries and Wildlife class, a high school General Agriculture class, and an Animal Science class. A lot of the work in those classes involves hands-on activities, including dissecting animal parts and learning about hydroponics.
The program has also seen success outside the classroom. Ms. Sfabian won a $4,000 Agriculture in the Classroom grant, which has been used to buy two Nutrient Flow Technique (NFT) systems, grow lights, and a grow cart to equip a greenhouse. Students have also gotten the opportunity to write proposals for the greenhouse and present them to district administrators.
"Learning for students isn't stationary," said Ms. Sfabian. "It happens outside the classroom as well."
Ms. Sfabian hopes to work more with community professionals next year, getting students internships related to agriculture around in Schoharie County. "We need to engage in community-based learning," she said. "Not just having resources come in, but also having students take resources and bring them outside the school to the community." Ms. Sfabian is also looking to expand the Future Farmers of America (FFA) club, getting 7th and 8th graders involved.
The FFA Club is also soaring to new heights. Four students will be competing at the upcoming state convention after competing in sub-states. Vivian Hanley will be competing in Senior FFA Creed, Andie Burton in Agriculture Education, and Hanley and Burton will be joined by Andrew Miaski and Brandon Diamond to compete in Senior Quiz Bowl.
Seniors Angelina Reinhart and Autumn Miller both talked about how the club has helped them prepare for the next steps in their academic careers.
"It's made me look at things differently," said Reinhart. "FFA has opened a lot of doors that I didn't know existed."
"Ms. Sfabian is pushing me to do the best that I can do," said Miller.
"I'm really amazed at what these students have been able to do in a first-year program," said Ms. Sfabian. "It just shows how invested students are in this and the interest they have in it."