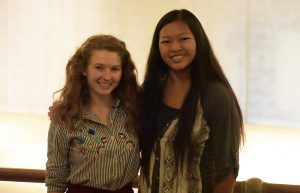 It's not every day that a national touring group of a hit Broadway musical comes to the Capital Region. It's also pretty rare that musical would hold a link to your childhood. And rarer still that you'd get a chance to work on it.
"I'm really excited," says senior Hayden Francis. "It's going to be really cool," said fellow senior Ruby Acker.
Both Hayden and Ruby are participating in the Broadway Tech program through Proctors for the show Anastasia, the 2017 musical inspired by the 1997 animated movie. It tells the story of Anastasia Romanov, known as Anya, through the Bolshevik Revolution and her quest to find her family nearly a decade later. Hayden and Ruby both watched the movie growing up, but say they hadn't seen it in years before this opportunity.
Broadway Tech is a program through Proctors that offers real-world experience for students to work with industry professionals. Only 20 students are taking part in the Anastasia classes, which run over three weeks in late September and early October. Students will take part in backstage work, such as lighting, costuming, and sound design, and learn what it takes to get a Broadway show off the ground.
While Hayden and Ruby are exploring their options after graduation, both are looking forward to the experience of working on a show like Anastasia. "I'm not sure what I want to major in at college, and I've always been interested in musical theater," says Hayden.
"I'm planning on another major in college, but it's always good to have a background in other things," says Ruby. "And this is a chance to see if I really like theater."
Both seniors say they are treating the Proctors program very much like a short, intense internship.
Hayden credits Jr./Sr. High School Counselor Mrs. Pacatte for alerting her to the program. She saw an e-mail and asked to sign up. Ruby says she knew other seniors who had participated, and looked for information on the program.
Anastasia will be at Proctors in Schenectady from October 9th through October 14th.