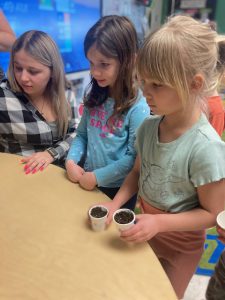 With paper cups, soil and seeds in hand, a group of Middleburgh Elementary School students got a lesson on growing food from members of the Future Farmers of America (FFA).
Julia Bingham, Graycee Cummings, Skyler Czyszczon, Nola Dunscombe, Jackson Hughes-Charboneau, Trevor Loucks and Emily Seaman (all seniors) visited the elementary school on March 24 to share their knowledge with students in Jen Rehberg's kindergarten class and Kim Kennedy's grade 1 class. 
The extended learning activity began with reading "Tomatoes for Neela" by Padma Lakshmi. The book centers around a young girl cooking with her mother. It was a precursor for discussing recipes using tomatoes and how herbs like basil add flavor to food.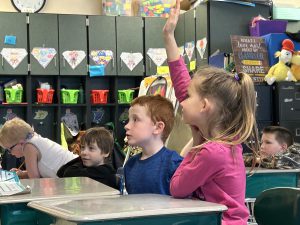 Later, while members of the FFA helped the elementary students spoon soil into cups, they talked to them about the tomato and basil seeds they were planting and the need for sunlight and water to grow plants. 
The activity was part of a celebration of New York Agriculture Literacy Week. At the lesson's conclusion, FFA members donated a copy of "Tomatoes for Neela" to the elementary school library.