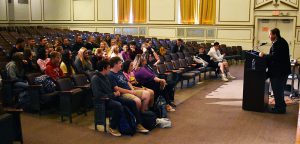 Middleburgh Jr./Sr. High School students got the opportunity to speak with one of their local representatives during the school day when Assemblyman Chris Tague (102nd NYS Assembly District) visited the school to tour the building and answer student questions.
The Assemblyman toured the agriculture and technology programs in the Jr./Sr. High School and met with teachers, expressing the importance of both programs to him.
When meeting with students, the Assemblyman answered questions on a variety of topics that students had submitted, from healthcare to school safety, vaping to agriculture, and marijuana to abortion. Assemblyman Tague also talked about what his typical day as an assemblyman is like, and answered questions about his voting record, explaining to students his reasons for voting the way he did on raising the smoking age and de-clawing cats.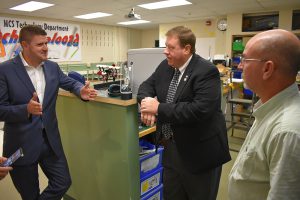 Thank you to the assemblyman for taking time out of his busy schedule to meet with our students and help keep them civically engaged.