Celebrating the class of 2022
"Students, take control of your education. Be captains of your learning and bridge the gap between the classroom and the real world." – Joel Schiffler
Important Graduation Information
Graduation Rehearsal
Thursday, June 23 beginning at 12:30 in the auditorium.

Graduation tickets will be handed out during the rehearsal.

This is a mandatory event for all graduates. 
Graduation Details

Friday, June 24 doors will open at 6 p.m.
Seats are on a first come first serve basis.
The balcony will NOT be open to the general public.
Graduation Ceremony and Reception
7 p.m. prompt – graduation will begin.

After the ceremony you are welcome to join us behind the school under the tent for a reception.
As soon as it gets dark enough we will have a fireworks display to conclude the celebration.
Ceremony Livestreamed Outside on HS Lawn and YouTube
For non ticketed family and community members we will have a live stream playing on the front lawn of the school.

In addition, we will be streaming on YouTube Live. The web address is: 

https://youtu.be/zsbTbO5o5Nc
Fun Events Happening soon 

JUNE
23
– 12PM Senior brunch in the cafeteria followed by graduation rehearsal
JUNE 24 – 7PM Graduation in the MCS Jr. / Sr. HS Auditorium
Scholarship | SAT | College rep visits 
Ms. Jones sent an email to all senior class members with an invitation to join the "scholarships" Google Classroom.  Please accept the invitation.
Information regarding all scholarships and awards will be posted in the Google Classroom only, if you are not a part of it you will miss important information.
Be sure to periodically check the bulletin board outside the main office for announcements on SAT test dates, scholarships, and college representative visits to our school.  
Top 5 Graduates

Valedictorian: Anna Churchill
Salutatorian: Cameryn Shultes
Honor Graduate: Benjamin Diamond
Fourth Highest Average: Adam Maxwell
Fifth Highest Average: Aidan Martin
In the News
Video of Class Day 2022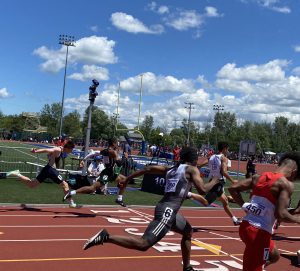 June 13 Kaurice Bell's strong finish at the state championship
Out of all small schools (Division 2) in New York State, Kaurice is 17th in the 100 and 12th in the 200. Out of all schools regardless of small or large division, he is 34th and 26th respectively. Read more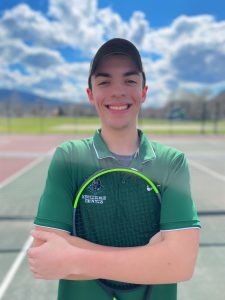 May 31 John Bruno battled into the third round of the Section 2 Individual Tennis Tournament. In the first round he faced a player from Albany and won 8-3. In the second round he defeated a player from Shaker 11-10 after winning the tie break 8-6. Read more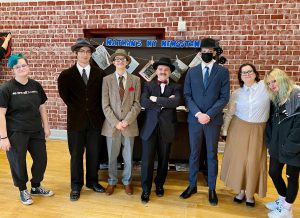 March 24 The senior cast of Guys and Dolls on Opening Night
Alanna Becker, Aidan Martin, Matthew Nikolaus, Mark Ciafardo, Luke Bramer, C.J. Thomas, Lindsey Becker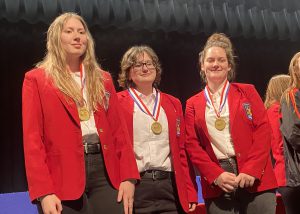 March 16 Watch this video as SkillsUSA President CJ Thomas shares the good news that she's going to states in April after placing first in the regional #SkillsUSA crime scene investigation competition. Congratulations! 
Dec. 6 Meet CJ Thomas, SkillsUSA President: CJ attends Capital Region BOCES Schoharie campus in the mornings to pursue a career interest in criminal justice. Read about her new leadership role.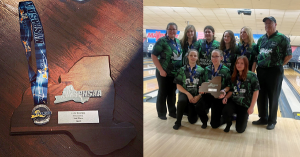 March 11 MCS girls varsity bowling team placed 2nd in the State Championship!

Read this article from Feb. 11 about winning sectionals and sweeping all the Class B schools.

Read this story from Jan. 28 about senior varsity bowlers: Cameryn Shultes, Jaidyn Rose, Danielle Chichester, and Hailey Slater.
Feb 11. American Legion Oratorical Constitutional Speech Contest: Aidan Martin won the county and the district and placed third in the Zone Crown. Read more
Jan. 19 The Fastest Cleanest Bricklayer: Nick Wood was able to mud and lay 24 bricks into a wall in two, two-minute intervals. Read about the competition
Oct. 27 Lady Knights Volleyball go to sectionals: seniors Anna Churchill, Danielle Chichester, Hallie Gasner, and Skylar Hainey – Superintendent Dunn wishes them luck, here. 
Oct. 25 Cheer on MCS Boys at the Soccer Semifinals: Tickets and bus permission 
Oct. 22 Varsity Boys Take on Lake George in Soccer Quarterfinals: Read the story
Oct. 20 A Day in the Life of the Hudson River: Read about students working alongside specialists from the NYS DEC collecting data from the Schoharie Creek.
Oct. 19 MCS Girls and Boys Varsity Soccer Teams to Play in Sectionals: Read about the stats from the regular season. 
Oct. 19 Pathway to a Skilled Trade Career: Tristin Diaz, a BOCES Construction/Heavy Equipment student meets with recruiters of construction companies. Read more
Youth As Leaders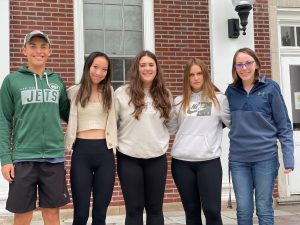 John Bruno, Gillian Acker, Cameryn Shultes, Alyssa Wayman, and Jaidyn Rose are the seniors representing Middleburgh Central School district in this Schoharie County Youth Bureau program.
Students in grades 10-12 were chosen by their teachers. In the first year of the program, tenth graders are enriched in leadership activities. As sophomores, they branch out into community service. When students are seniors, they pass down what they've learned to the newcomers of the groups. Read more about the program and MHS students participating.  
Seniors in Fall Sports 
Volleyball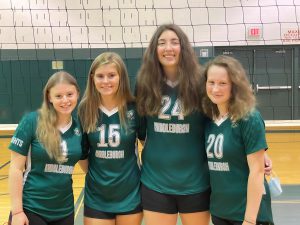 #1 Anna Churchill
#15 Danielle Chichester 
#24 Hallie Gasner – WAC Mohawk League, Co-MVP Hitter and First Team All-Star 
#20 Skylar Hainey
Boys Soccer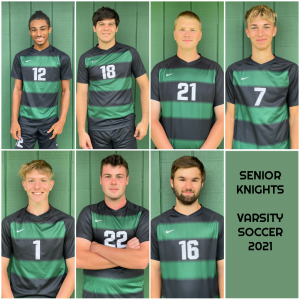 #12 Kaurice Bell – WAC Mohawk League, First Team All-Star

#18 Gage Calitri

#21 Nicholas Wood

#7 Kevin Fuller

#1 Tristin Diaz

#22 Michael Schofell

#16 Jacob Barnes
Girls Soccer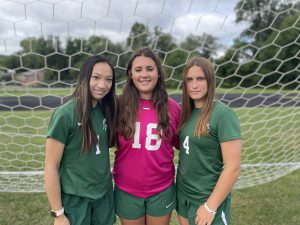 #1 Gillian Acker
#18 Cameryn Shultes – WAC Mohawk League, MVP and First Team All-Star
#4 Alyssa Wayman
Golf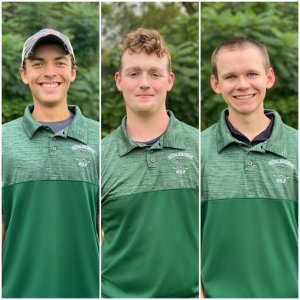 John Bruno – WAC Mohawk League MVP 
Joshua Reinhart – WAC Mohawk League, First Team All-Star
Matt Croote – WAC Mohawk League, Second Team All-Star
Cross Country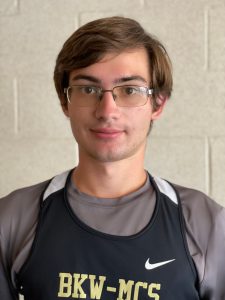 Aidan Martin
Aidan started running as a way to relieve stress, he said,
"I think it's definitely made me healthier mentally as well as physically."
Read more about Aiden's XC experience. 
Seniors in Winter Sports 
Wrestling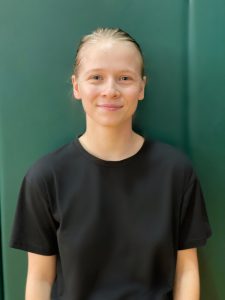 Jalynn Armlin
Bowling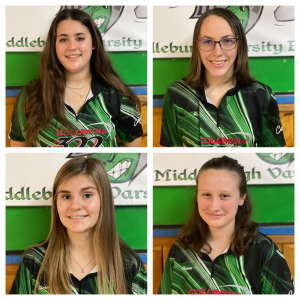 Cameryn Shultes
Jaidyn Rose
Danielle Chichester
Skylar Hainey
Girls Basketball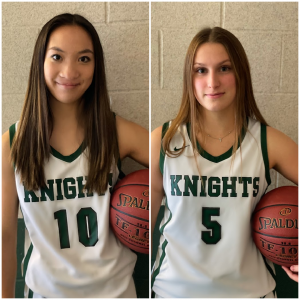 Gillian Acker
Alyssa Wayman
Boys Basketball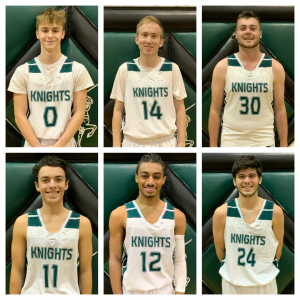 Connor Ganson
Adam Maxwell
Michael Schofell
John Bruno
Kaurice Bell
Gage Calitri